MARBELLA – LIFESTYLE – Christmas in Marbella
Christmas in Marbella
Christmas is the season to spend time with the family, to visit other cities or to decorate the house with typical products of this holiday. It's true you can't go to the beach because of the temperature, but that doesn't mean you always have to stay in your city. Imagine spending Christmas in Marbella at an average temperature of 15 degrees and you will be thrilled by this idea. You stroll through the streets of this coastal city without fear of catching a cold.
Although there is plenty of winter sunshine in Marbella, there is a very festive atmosphere in the city for spending a Christmas holiday. This fun city has something to offer everybody at this time of year: from sparkling lights to carol singers, Christmas markets, great food and glamorous New Year events.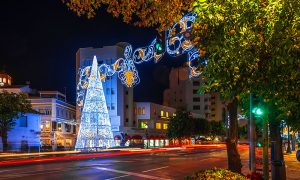 When Christmas comes to town, Marbella is transformed into a very festive place. At the end of November the city is lit up with an elegant and pretty series of Christmas lights.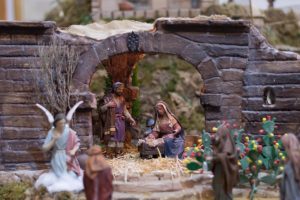 In Parque de la Alameda can be found nativity scenes and stalls selling roasted chestnuts, hot waffles and other festive treats. Meanwhile, a stroll around Marbella's Old Town will certainly add a bit of magic to anybody's Christmas. The Christmas decorations this year will include over five hundred illuminated arches, eight nativity scenes decorated with LED lights and four Christmas trees decorated with tinsel. In addition, there is a new feature this year that visitors will love: a daily sound and light show in Parque de la Alameda. This show will be held every day at seven pm, and there will be an extra show at eight thirty pm on Fridays, Saturdays, Sundays and holidays.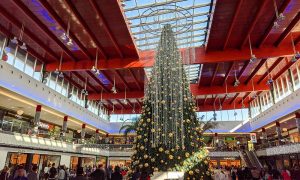 When it comes to Christmas shopping, Marbella has a lot to say and offer. During this holiday, the town is filled with lighting and decorative motifs typical of this time in which it is possible to enjoy the events and markets that reflect the traditions and customs of the town. It is also worth a trip to La Cañada shopping centre, with its spectacular Christmas tree and festive decorations on the counters.
In addition, it should be noted that on December 16, next to the Divine Pastoral Parish from 10 am to 1 pm, the traditional Christmas market held by the Multiple Sclerosis Association will be held. Here you can buy all the Christmas crafts you need so that your home is flooded with the long-awaited Christmas feeling.
What to do in Marbella?
The city of Marbella has numerous sights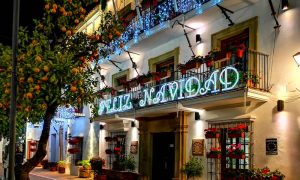 See Plaza de Los Naranjos with oranges
One of Marbella's most famous squares is Plaza de Los Naranjos and while in spring you can enjoy the wonderful sight of the orange trees in bloom, it is at this time when you can see these trees full of fruit and enjoy the colour they give to the city.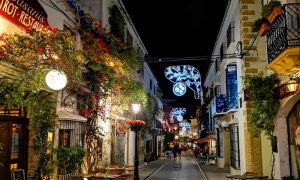 Stroll around the historic centre to see the Christmas lights and eat chestnuts
The historic centre of Marbella is one of the most visited in all of Andalucia because it has been known to preserve its identity and its own Andalusian style. Well, if any day at any time is beautiful to see its streets, imagine it at night and decorated with Christmas lights. A spectacle for the senses! Also from the end of October you can find the typical roasted chestnut stalls on a multitude of streets and squares. These stalls are traditional during Christmas in Marbella and it is that a Christmas if its smell flooding the streets in December would not have so much charm.
Golf, hiking and much more
Marbella is definitely the place where the practice of Golf can be done 365 days a year. This sport has become one of the most popular in Costa del Sol, because while the rest of Europe is cold in Marbella thanks to its pleasant climate you can "make some holes" whenever you want.
Other outdoor activities that can be practiced in Marbella during Christmas is exploring the interior of the province of Malaga, as relatively close you can visit cultural and tourist sites as beautiful as Ronda, Ojén, Antequera … Although if yours is the hiking we tell you that here from December the landscape is covered with the first fresh green, so it is the right date.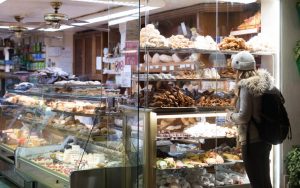 Gastronomy
And what would Christmas be like without good food, so in Marbella you can enjoy both the typical dishes of this festivity, as well as more Mediterranean and sophisticated culinary experiences. We encourage you to visit restaurants such as La Pesquera, El Balcón de la Virgen or Marbella Patio Restaurant, among others to taste the richest and most innovative dishes cooked all with the best native products.
Roasted chestnuts for Christmas
Traditional Roasted chestnuts are on offer after the Mass in honour of the Virgen del Rocío with the Sierra Blanca choir at the parish church of Virgen del Carmen de las Chapas. This old tradition involves sampling roasted chestnuts, washed down with a glass of aniseed liquor or aguardiente.
It's a group celebration aimed at keeping the traditional spirit of roasting chestnuts alive. This typical Marbella activity forms part of the city's cultural DNA.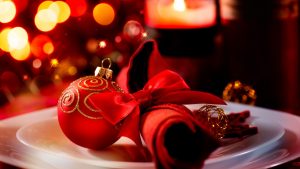 New Year's Eve Dinner
At the end of the year, Marbella offers a wide range of options for celebrating New Year's Eve with your partner or family. There are restaurants to be enjoyed with friends, romantic spaces and other options offering different experiences for the most adventurous among you. Any moment during the Christmas festivities is perfect for getting together around a table and savouring the delicacies of a menu designed specifically for this celebration.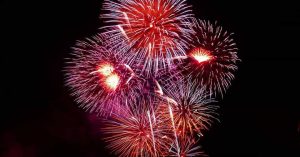 New Year's Eve Party
If you're thinking of spending New Year's Eve in Marbella, this year's party has been moved to Plaza de la Iglesia de la Encarnación. Marbella residents will be able to eat the traditional midnight grapes in this new space to the rhythm of the church's tolling bells, before getting the year off to a great start with the Velada y Arenal Orchestra.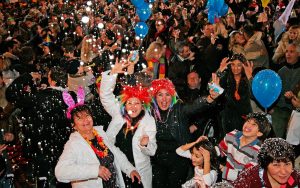 In addition, bars, pubs and nightclubs all arrange private parties where you can pay for what you drink or enjoy an open bar. As a general rule, venues tend to charge different prices to those found during the rest of the year. Although some forget about special promotions for this particular evening.