REAL ESTATE – Marbella, is one of the locations that drives the residential real estate market of the Costa del Sol
Marbella, is one of the locations that drives the residential real estate market of the Costa del Sol
The data on the sale of homes in Marbella and its immediate surroundings, accompanied by the unstoppable increase of tourists year after year, make experts of the real estate and banking sector predict the beginning of a new golden age of the real estate sector in the area for next years.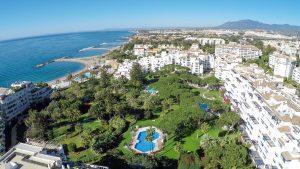 Marbella is one of the locations that most drives the residential real estate market. In fact, the National Institute of Statistics (INE) confirms that Malaga is the fourth Spanish province where more houses changed hands during 2017 (30,064 compared to 15,917 in the Balearic Islands), second only to Madrid, Barcelona and Alicante.
On the other hand, the segments of the market that enjoy greater strength and strength are those of apartments of between 200,000 and 1,500,000 and villas of between 700,000 and 2,500,000. Many of the homes located in the best residential areas that were built 20 or 30 years ago or more, are being sold either to be demolished and built again or to be completely refurbished. "
Due to these favorable data, there are 61 new housing projects in the areas of Marbella, Estepona, Benahavís and Ojén that are on sale since 2016. These new developments offer properties at prices between 200,000 and 4,000,000 and constitute a total of 2,657 homes.
Of these properties, 61% has already been sold or is in the process of being sold and a considerable amount is still under construction.