MARBELLA – Marbella's beautiful old town
MARBELLA'S WONDERFUL OLD TOWN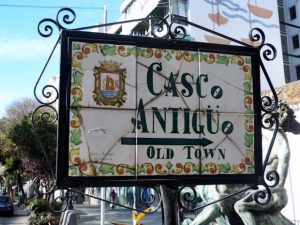 Marbella has a rightly golden reputation as one of the leading vacation spots in Europe. It is one of the continent's most dazzling vacation destinations along with southern France and Mallorca, and while today's visitors may not quite agree with Sean Connery or Grace Kelly when it comes to superb quality, it continues to have many fans among the nobles and high net worth private individuals.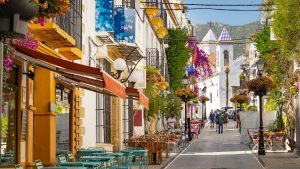 Many visitors come to enjoy the daytime beaches and the delights of nightlife and bars that line the world famous marina of nearby Puerto Banús. But there are just as many who keep coming back to stroll comfortably through the picturesque streets of Marbella's Casco Antiguo or the old town during the day and at night.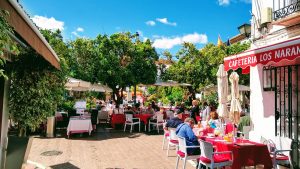 The area covered by the old town is surrounded by the old city walls, and little has changed in shape or arrangement since the 16th century. The centerpiece is the Plaza de los Naranjos, referred to in English as Orange Square. Here you can dine al fresco in the evening, while the scent of oranges wafts through the warm night air and the wonderful smell of traditional Spanish cuisine whets your appetite. Architecture students will find the square's three tallest buildings of interest: the City Hall, Mayor's House, and Santiago Chapel are examples of Gothic, Renaissance, and Mudejar styles that emerged immediately after the reconquest of Spain in the 15th century.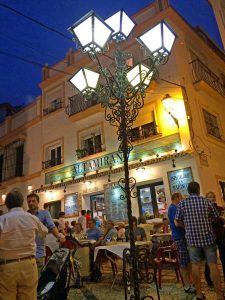 The area is also known for its charming shops and some of the best restaurants in Marbella are found in this maze of tiny streets. If you are looking for something unique that you will not experience anywhere else, the El Patio de los Perfumes restaurant offers an unforgettable night in a 200 year old house. For fresh fish and good seafood in a friendly atmosphere, the Altamirano restaurant has been in the middle of the old town for 30 years. A great place to enjoy fresh Marbella seafood with friends or family.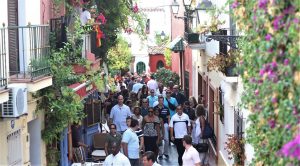 America's First Lady, Michelle Obama, thoroughly enjoyed a tour of Old Town Marbella during her visit, and while you don't run into someone like her every day in Marbella, Old Town is Marbella's own main attraction and one that adds a touch of history Charm and elegance in a luxurious modern resort.