REAL ESTATE – Marbella WOHNEN Immobilien
MARBELLA WOHNEN IMMOBILIEN
LOCAL MARKET KNOWLEDGE, DISCRETION AND INTEGRITY
IN MARBELLA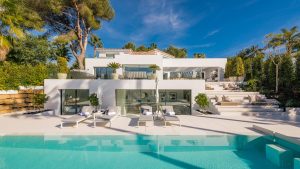 Marbella WOHNEN Immobilien is made up of a small team with unrivalled, in-depth knowledge of the Marbella property market, its distinct residential areas and the real estate and lifestyle they offer. This expertise extends to specific sub-zones and individual luxury properties.
With over 20 years of experience in this market and a long-term commitment to the town we love, Marbella WOHNEN Immobilien is known for a way of working that is built on discretion and integrity. This and the results we deliver are the main reasons why so many buyers and owners of select homes choose to work with us, often to represent them in exclusivity.
Tell us what your needs and preferences are, both in terms of the property and the lifestyle you desire, and we will be able to provide not a standard response but focused advice. We apply our product and marketing know-how to achieve results for homeowner, buyer and investor alike, and as fully independent agents offer quality of service and property selection, as well as an extensive professional network.
Our customers….
Most of our customers come from the EU, especially from Germany, Austria and Switzerland, but also Great Britain, Ireland, the Netherlands, Belgium, Italy, France and Poland. Other countries such as Russia, China, Japan, the United Arab Emirates, the USA and Canada are also among our customer potential. The rest are foreign nationals residing in Spain or Spanish.
Most are looking for a main house or a second home, be it a luxury villa, an apartment on the beach, a finca or a plot of land to build.
Everyone helps to choose your new home with – 

Marbella WOHNEN Immobilien
Life is filled with opportunities to seek the exceptional, encounter the new and widen our horizons. Find your next extraordinary moment with

Marbella WOHNEN Immobilien
Moderne Luxus Villa in Las Brisas Golf, Nueva Andalucía, Marbella, Costa del Sol, Spanien – HN3173