EVENTS – SENIOR MASTER CUP – 28-29 SEP 2018 MARBELLA
The best tennis of all time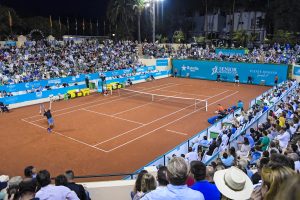 The high level tennis returns to Marbella on September 28 and 29 with the celebration of the third edition of the Senior Masters Cup at the Puente Romano Tennis Club. For the third consecutive year, consolidated stars of the racket will meet in the capital of the Costa del Sol to compete in the Senior Masters Cup, a sports and social tournament of reference in the Marbella calendar.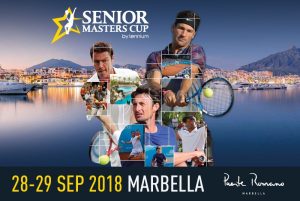 Former tournament champion Carlos Moya will return to Marbella to defend the title against ex-number 1 Juan Carlos Ferrero and Marat Safin. Goran Ivanisevic, Yannick Noah, Albert Costa and Sebastien Grosjean will close the table of tennis stars that will participate in this edition in which a high level of tennis and competition is expected.
Carlos Moya
2017 the Spanish, favorite, won the legendary American for a double 6-4 on the track Manolo Santana Club Puente Romano de Marbella. The public had a great time. He was the favorite to win the second Senior Masters Cup in Marbella, although he denied it. Carlos Moya made good predictions and won in the final to the great John McEnroe, plenty of class and dignified rival. But the years do not forgive and the difference was remarkable: 41 of the Spanish against 58 of the American. Moya won by a double 6-4.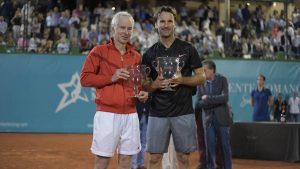 The public (about 2,000 spectators), who filled the track Manolo Santana of the Club Puente Romano had a great time, including the legendary former player. McEnroe practiced his famous serve and volley game without caring that the surface was of clay. And Moya was not behind in that intention, attacking even in the second serves of Big Mac. Thus the game was more colorful and entertaining to see beautiful passings, left and volleys of merit on the part of both.