EVENTS – The villa, in the exclusive Sierra Blanca urbanization, is the setting for the broadcast programs of "My house is yours"
The villa, in the exclusive Sierra Blanca urbanization, is the setting for the broadcast programs of "My house is yours"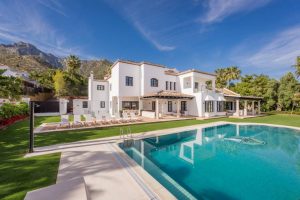 The house of the Bertín program in Marbella, for sale for 7.5 million euros. Villa Pashmina in Marbella has been the chosen place and, without doubt, the program will become the best real estate agent to sell this property that is for sale at De Rhone Property Marbella.
Villa Pashmina, located in the exclusive Sierra Blanca urbanization. Those interested in converting this house into their usual residence are in luck because the house is for sale.
On a plot of 2,150 square meters and 1,200 meters built, Villa Pashmina has a private pool and garage, garden, 9 bedrooms and 9 bathrooms distributed on its two floors, with elevator, laundry, massage room, gym, sauna, Turkish bath and cinema. A display of luxury interior combined with a traditional exterior design.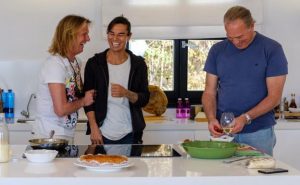 Julio Iglesias Jr., Mariló Montero and Ágatha Ruiz de la Padra are the first friends of Bertín Osborne who disembark in their impressive summer home, Villa Pashmina. Together they will share a warm evening in which they can relax and open their hearts to the presenter.