REAL ESTATE – MARBELLA – What property is better suited to my needs?
What property is better suited to my needs?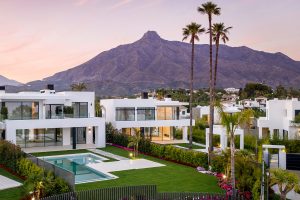 Buying a home is a very important step in our life, a moment where we seek to inform ourselves with the best advisers so that the buying process is positive. If you are interested in buying a property, at Marbella WOHNEN Immobilien we help you decide which one is best for you.
When we think of buying a house, flat or even a single-family home, there are many interesting alternatives, and although we always dream of large homes with large outdoor spaces, is it really what we need?
Below we describe a series of factors to take into account and alternatives to make the best decision.
Needs
One of the most important factors to take into account when choosing a new home are the needs that may exist and that the home must perfectly meet. The choice cannot be made without taking into account the number of people who will live in the house to decide on a large or medium-sized property. If it is a young couple or a family of several members, the need varies in large spaces or different rooms.
Accessibility
Accessibility to housing and infrastructures are other key factors in choosing one property or another. Knowing the distance and travel time to points of interest such as the place of work or the children's school is necessary, in addition to the existence of nearby public transport connections, despite having our own vehicle to get around.
Property type
The wide variety of existing housing alternatives offer different possibilities and these should meet your needs. So you must define the size of the home you are looking for, if you are looking for a new or second-hand home, an apartment, a villa …
In the real estate market we can find the following types of homes to choose from:
Single family Home
Single-family homes are those properties in which a single family lives, independent homes without contact with other properties.
In addition to the large spaces they offer, their location is a great asset. They are usually located far from the center of cities and their agglomerations, often located in rural areas, providing tranquility. Thanks to all this, the space offered by these homes has great adaptation to the needs of its members.
Loft
This alternative deals with homes located in central areas of large cities. They have a modern design and are in great demand thanks to their proximity to work or social centers. It is a space that connects with each other with few divisions so it does not have many square meters.
Duplex penthouses
A duplex represents a construction of two single-family houses joined together horizontally or vertically. Despite the fact that the staircase that connects these two houses is a drawback, the size is a great advantage, along with the brightness and its distribution.
Property of owners
A property of owners is a residential group of buildings or houses where they offer large shared services forming a private space. In these common areas the owners can enjoy green areas, gym or swimming pool. But all this makes it a costly investment.
Community residential complex
This last option like the previous one has shared areas such as green areas, park or pool, but this alternative has a greater variety. They are a set of different homes that compose it, and thanks to this you can buy one that fits your budget. We can obtain an apartment, a single-family house or even a duplex in a subdivision where all the owners have in common the services of the common areas.
We advise you
It is not an easy task to select the home of your dreams, it must adapt to your needs, and not the other way around. The great variety that we can find in the market and the great investment that it supposes makes us doubt.
That is why at Marbella WOHNEN Immobilien we know that the purchase decision is not an easy thing and we can help you as specialists in the search for homes, adapting to your needs. To avoid unwanted surprises that could cost many annoyances, we adapt to each client.
Specific advice: We establish the objectives knowing the clients and their needs through an interview.
A tailored suit: We have a deep knowledge of the real estate market and with this we try to find exactly what clients are looking for.
Buy from reason: We guarantee that the purchase you are going to make will be the most appropriate according to your needs and budget, always with objective and real reasons.
With us you can find the lifestyle you deserve, the lifestyle you have always dreamed of
Modern luxury villa in Las Brisas Golf, Nueva Andalucia, Marbella – HN3176