GOLF – MARBELLA – Golf passport of the Costa del Sol
Golf passport of the Costa del Sol
With the 'Golf Passport' we want to attract fans of this sport and boost the sector this summer, especially in those courses that are eminently commercial and do not have partners to maintain their economic and sporting activity.
The idea, which emerged during the different telematic meetings of the City Council with this segment during the state of alarm, has the participation and involvement of the La Quinta, Santa Clara, Marbella Golf, Cabopino, Santa María and Los Naranjos golf courses, where the initiative was presented this afternoon.
It is a good measure to promote one of the most important sports with the greatest tourist attraction in the city "- Ángeles Muñoz, Mayor of Marbella

"And if there is an activity that allows you to practice outdoors with the recommended safe distance and also enjoying an exceptional climate, it is precisely golf."
This sector moves a type of tourist with high purchasing power, especially when it comes to recreation, and this initiative aims to reduce costs during the summer season from June to September in the areas where they are extremely commercial and understand that efforts and commitment are required to be more competitive and attract players to our city.
Our golf courses are open, to be able to receive the players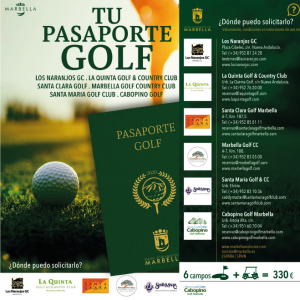 Together with the Tourism and Sports areas, a dissemination campaign will be carried out, mainly through social networks and channels in the tourism field, so that clubs in other countries know what is being done in our city.
The Councilor for Sports, Manuel Cardeña, pointed out that "we want to convey the message that our golf courses are open to receive players" and pointed out that Malaga has around 18,000 members of this sport.
Users with a Golf Passport will be able to enjoy a 'green fee' and a buggy in each of the participating courses