REAL ESTATE – Justin Timberlake and Jessica Biel finally sell their New York penthouse
Jessica Biel and Justin Timberlake are newyorkers
The couple formed by Justin Timberlake and Jessica Biel have finally come to their penthouse in New York's Soho. They put it on sale at the beginning of the year 2017 and they just sold it for 6.6 million dollars (5.5 euros) although the starting price was 8 million dollars. Justin and Jessica have long lived in another New York penthouse in Greenwich Street that cost them 20 million dollars.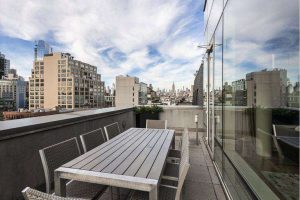 A Penthouse with views and a very cool modern style
What is the best thing about living in an penthouse? The views you have and the light, of course. And if on top they are to the Big Apple, I often like it. And neither one thing nor the other is missing in the penthouse of Justin Timberlake and Jessica Biel. I love the modular sofa that they have and the seats that close the living room. They have the right point of style and comfort.